Skip to main content
Main Street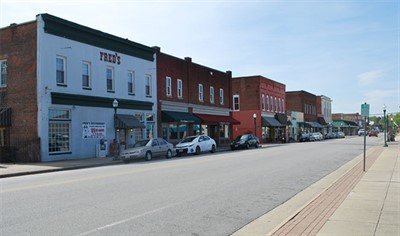 Take a leisurely walk down Franklin's Main Street and you'll find everything from classic treasures to country charm. Antiques, collectibles, fashions, flowers, furniture, jewelry, music, men's clothing and more line one of the quaintest streets in the area. Be sure to drop by restaurants like Fred's or Pam's Tea Room for a rest and scrumptious lunch.

Friendly, personal service in a beautiful little city is what you'll find in Franklin.
The Main Street Program gives the many downtowns across America -- downtowns that have been drained of their vitality in the post-World War II decades by suburban residential and commercial growth -- alternatives to the policies of neglect of or devastations to their physical and economic fabric. Their strategy reverses the often negative perception of the downtown built environment, treating it as an asset with a unique character, and provides a framework for managing downtown -- its economic as well as its physical fabric -- as a distinct entity, a concept not unlike that of shopping malls that contributed so strongly to downtown's decline. The nation's first program to explore the relationship between historic preservation and economic development, the Main Street Program maintains the individuality that made downtown special while molding a secure financial base by which to sustain it.

Main Streets were once the retail, local government, and community centers of towns and small cities throughout the country. Their physical deterioration and economic decline in the 1950's and 1960's testified to the nation's preoccupation with the new and supposedly improved, and its rejection of the tried and true. New highways bypassed these small urban areas and sped motorists to suburban homes. Strip shopping and indoor malls followed, and with plentiful parking and a fresh look, frequently siphoned Main Street's customers and businesses, including long-established department stores. Downtowns were deemed undesirable, then unprofitable. Some communities responded with apathy, allowing their properties to decay and their window displays to age. Others, in an attempt to make the older buildings into something they were not, disguised them with modern facades and oversized gaudy signs.