Skip to main content
Riverfront Soul Festival Health & Wellness Expo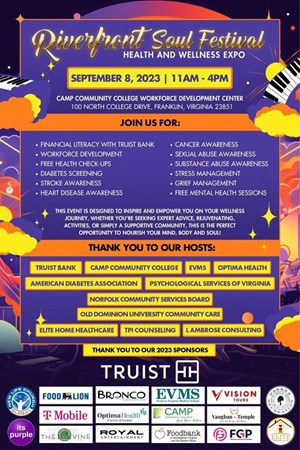 Join us for the Riverfront Soul Festival Health & Wellness Expo at Camp Community College Workforce Development Center Friday, September 8th, 11:00AM-4:00PM. 
Topics of discussion: 
Financial literacy with Truit Bank
Workforce development
Free health check-ups
Diabetes screening
Stroke awareness
Heart disease awareness
Cancer awareness
Substance abuse awareness
Stress management
Grief management
Free mental health sessions 
This event is designed to inspire and empower you on your wellness journey, whether you're seeking expert advice, rejuvenating, or simply a supportive community. This is the perfect opportunity to nourish your mind, body, and SOUL!