Skip to main content
Due to the current COVID-19 outbreak, Governor Northam announced on Monday 3/24/20 that all Virginia schools will be closed for the remainder of the school year which includes Franklin City Public Schools. Also, all city buildings will be closed to the public until further notice. Governor Northam announced on March 30,2020, a stay at home order for Virginia residents effective immediately..
COVID-19 Information and Resources
Employee Assistance Program (EAP)
Family First Coronavirus Response Act (FFCRA or Act)
The Families First Coronavirus Response Act (FFCRA) requires certain employers to provide their employees with paid sick leave and expanded family and medical leave for specified reasons related to COVID-19.

These provisions will apply from April 1, 2020 through December 31, 2020.

Additional information on this Act is below.
Coronavirus COVID19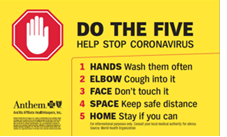 LiveHealth
Local Foodbank Information 
-         The Y has also partnered with the Foodbank by distributing food at designated YMCA locations once per week. 
-          The Hope Center is still open for food distribution on Saturdays from 9-11am. They are located at 105 South College Drive Franklin, VA 23851.
-          The Disaster TEFAP distributions will continue on the following Saturdays from 9-11am: May 2, May 9, May 16, and May 23. These distributions take place at the Martin Luther King, Jr. Community Center. This distribution is being facilitated through a partnership with City of Franklin Department of Parks & Recreation, Celebration Church, Mt. Tabor Baptist Church, and Shiloh Baptist Church.