Skip to main content
Due to Governor Northam's current order for Virginia to be in Stage 3 of COVID-19 recovery, City of Franklin city hall is now open to the public with social distancing and masks required. Please reserve the hours between 8:30am to 9:30am for those citizens over the age of 65 and those with compromised immune systems.
COVID-19 Information and Resources
Employee Assistance Program (EAP)
Family First Coronavirus Response Act (FFCRA or Act)
The Families First Coronavirus Response Act (FFCRA) requires certain employers to provide their employees with paid sick leave and expanded family and medical leave for specified reasons related to COVID-19.

These provisions will apply from April 1, 2020 through December 31, 2020.

Additional information on this Act is below.
Coronavirus COVID19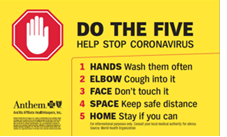 LiveHealth