Skip to main content
Citizen's Guide to Department of Social Services Benefits & Service Programs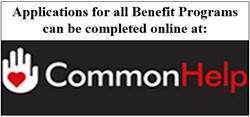 Benefit Programs help meet the basic needs and promote self-sufficiency for low-income individuals and their families. 
The following programs and services are available:
Auxiliary Grants help low-income elderly and disabled individuals pay the cost of residing in assisted living facilities.
Child Day Care provides low-income families with financial assistance to find affordable, quality child care for their children.  The program seeks to educate parents and promote informed decision-making when selecting a child care provider; support parents trying to achieve independence from public assistance; and increase the quality and number of child care options available to all families.
Low-Income Home Energy Assistance Program (LIHEAP) assists low-income households with the cost of home heating, including crisis services to those with a disconnection notice.  Cooling assistance is available to households that have an elderly individual, a permanently disabled individual, or a child under the age of six.
Medicaid/FAMIS provides medical and health-related services for individuals and families who meet income and other eligibility criteria for enrollment.
Supplemental Nutrition Assistance Program (SNAP) supplements the food budget of low-income households. Benefits are issued electronically through an Electronic Benefits Transfer (EBT) card, which is similar to a debit card.
Temporary Assistance to Needy Families (TANF) provides temporary financial assistance and employment-related services to enable individuals and families to achieve economic independence.
Virginia Initiative for Employment not Welfare (VIEW) is the employment services component of the TANF Program.  VIEW provides a variety of supportive services to assist with securing employment, including assessment, training, job readiness, counseling, referral to potential employment, childcare, transportation, and job follow up.
Family Services Programs promote and support the development of healthy families and protects children and adults from abuse and neglect. 
The following programs and services are available:
Adoption finds permanent adoptive homes for children whose birth parents are unable to care for them and provides services for children in adoptive placements.
Adult Protective Services (APS) investigates reports of abuse, neglect, and exploitation of elderly and disabled adults and intervenes to support and protect persons in danger.
Adult Services provides assessment and support services that enable adults to remain in the least restrictive setting and to function as independently as possible.
Child Protective Services (CPS) assesses or investigates the needs of children who are subject to abuse and/or neglect by their caregivers.   The CPS program seeks to protect children, preserve families, and prevent further child maltreatment.
Family Services preserves and supports families in crises, prevents child abuse and neglect and provides services to prevent out-of-home placement of children.
Foster Care provides out-of-home placements for children whose guardians are unable to care adequately for them.  The program is designed to be a temporary response to families in crises where "permanency" goals are established for each child.
Independent Living helps eligible youth in foster care obtain the basic life skills, education, and employment preparation necessary to become successful, independent, and self-sufficient adults.