Skip to main content
The COVID-19 Utility Municipal Relief Program can now provide more than one payment to utility customers with overdue utility bills that have experienced economic hardship due to the pandemic. Please contact Utility Billing Customer Service at 757-516-1001 for more information.
City of Franklin - Independence Day Celebration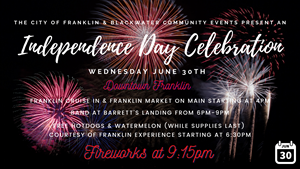 The City of Franklin and Blackwater Community Events are thrilled to co-host the 2021 Independence Day Celebration! We hope you and your family will join us in Downtown Franklin for an evening of fun, festivities, and fireworks!
The celebration will include:
- Franklin Cruise In (Starting at 4pm)
- Franklin Market on Main (Starting at 4pm)
- Band at Barrett's Landing (6pm-9pm)
- Free hotdogs and watermelon courtsey of Franklin Experience (Starting at 6:30 - while supplies last)
-FIREWORKS (9:15pm)
Our local shops and restaurants will also be open, and we encourage you to visit them as well!