Skip to main content
2023 Franklin Fall Festival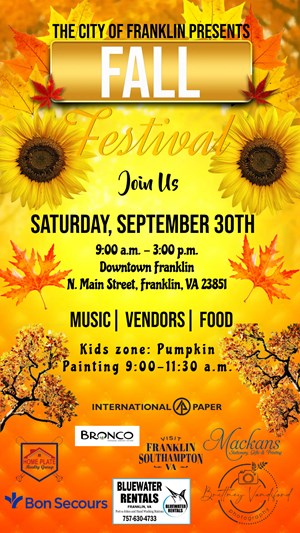 Fall is right around the corner and we are thrilled to announce that the City of Franklin will be hosting the 2023 Franklin Fall Festival on Saturday September 30th from 9am-3pm! Join us in Downtown Franklin to help kick off the fall season! The streets will be filled with food, vendors, photo booths, music, kids crafts/games, and more! Perfect for the entire family! Our downtown shops and restaurants will also be open and ready to help you fill your shopping bags and appetites! 
If you are interested in being a VENDOR for this event, please use the link listed below. Applications can be submitted via email to ajones@franklinva.com or mailed to "City of Franklin - Attn. A'Risha Jones 207 W 2nd Ave Franklin, VA 23851" Vendor applications are due by Sept. 11th. 
fall-festival-vendor
If you are interested in being a SPONSOR for the Fall Festival please call A'Risha Jones at 757-562-8503 or email ajones@franklinva.com. Sponsor registrations are due by August 18th to allow time for inclusion in advertisement materials. 
For all questions or registration assistance please email ajones@franklinva.com