Skip to main content
The COVID-19 Utility Municipal Relief Program can now provide more than one payment to utility customers with overdue utility bills that have experienced economic hardship due to the pandemic. Please contact Utility Billing Customer Service at 757-516-1001 for more information.
City Manager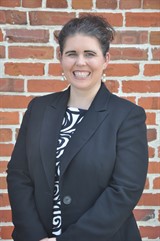 Amanda C. Jarratt took the helm as City Manager of Franklin, Virginia in January 2019.  She previously served as President and CEO of Franklin Southampton Economic Development, Inc. for 7 years, tasked with recruiting, establishing and retaining businesses and industry to the Franklin Southampton area.  Amanda is a graduate of The College of William and Mary where she received her B.A. in government and Virginia Commonwealth University where she received her Master of Urban and Regional Planning.  She has certifications from the University of North Carolina at Chapel Hill where she attended the Public Executive Leadership Academy and the University of Virginia Weldon Cooper Center LEAD Program.  In 2013 Amanda was named the Hampton Roads Top 40 Under 40 and in 2018 a Millennial on the Move by COVA Business Magazine. 
She is married to her husband Billy and they have three children.  
Contact Information  
Email: ajarratt@franklinva.com
Phone: (757)562-8561