Skip to main content
Fire and Rescue
ISO Class 3 Rating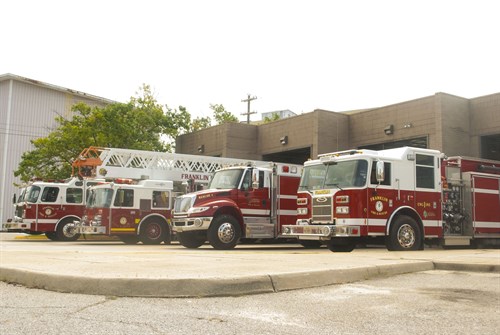 The mission of the Franklin Fire and Rescue Department is to save lives, protect property and educate the public. We strive to meet these challenges by providing quality, cost-efficient services in the following areas:
EMS care and transportation
Quick and efficient response to fire, rescue and emergency incidents
Public education in first aid and fire prevention
Business and industry support through fire prevention and inspection
Quick system access in conjunction with Enhanced 911
The Franklin Fire & Rescue Department employs 27 career staff and approximately 35 volunteers and junior members. Operating out of Downtown Station 1 and Pretlow Auxiliary Station, the department has 3 Engines, 1 Ladder Truck, 1 Rescue Truck, 1 Brush Truck, 1 Technical Rescue/Support Trailer, a 19' Carolina Skiff Rescue Boat, 2 - 14' john boats, 5 Medic Units, a Safety House Trailer for Public Fire Education, a Shelter Support Unit, and 4 staff vehicles. The department responded to 2,670 calls in 2013 which is a 26 call increase from the 2,644 calls ran in 2012, in addition to providing public education and training opportunities.