Skip to main content
Utility Billing Customer Service
Utility Billing Customer Service manages the City of Franklin's utility service account activities which include residential and business electric customers, water and sewer accounts and solid waste customers.  The customer service division handles all requests for new service, discontinuance of service and all billing inquiries.  Payments are made to the City's Treasurer's Office.
We are here to help.  If you have questions regarding your utility service, bill or payments, please contact us.
Important Phone Numbers: 
To report a power outage or concerns with your service – 757-562-8568
To report concerns with your water & sewer meter or to report leaks – 757-562-8564
To report concerns with your garbage service – 757-562-5502
Questions about your utility bill – 757-562-8518 or 757-516-1001 - Fax 757-516-8481
To report meter tampering & power theft – 757-562-8568
Helpful Links:
Establish New Service
In order to establish new service an application must be filled out and submitted in person to the Utility Billing Office.  (Please note applications are not accepted by telephone).  A picture ID must be presented before an application can be approved.  A deposit is required on all new accounts unless a written statement reflecting good credit experience is received from a previous utility.
Supporting Documents:
Equal Payment (Budget Plan) - Electric Charges Only
The Budget Plan takes the seasonal peaks and valleys out of your monthly utility payments.  Utility Billing Customer Service calculates your budget amount based on your last 12 months billing.  You pay this amount for one year, regardless of the seasonal ups and downs. 
Each year your account is reviewed to determine if the monthly payment amount should be adjusted.  You can budget for the whole year by paying the same amount each month and there is no cost to enroll for eligible customers.
Payment Options - Utility Bills
Pay in Person at the Treasurer's Office located at Franklin City Hall, 207 West 2nd Avenue, Franklin, VA. For faster service, bring a copy of your bill.
Payment by mail should be sent to Franklin City Treasurer, 207 West 2nd Avenue, Franklin, VA  23851.  Be sure to include your remittance slip.
A night deposit box is located in parking lot adjacent to Franklin City Hall (rear).  Please do not deposit cash.  Include your account number on your check or money order. This is picked up daily by 8 AM, except for holidays. 
For your convenience you may pay your account using the online payment portal  by going to www.franklinva.com and following the required steps.  You will need your account number and the WIPP (Pin) number provided on your Utility Bill.
Energy Assistance Programs
The Franklin Department of Social Services accepts applications for Energy Assistance Programs.  Fuel and Cooling Assistance is available for eligible customers.  For more information or to determine if you qualify for these programs, contact the Franklin Department of Social Services at 757-562-8529.
Service Reconnection
When a utility service is disconnected for nonpayment of a past due utility bill, all amounts due and must be paid in addition to the reconnect fee before a utility service is restored in addition to the reconnection fee. No personal checks will be accepted.
Hours of Reconnection & Fees:
Monday through Friday 8:30 a.m. to 4:00 p.m. (except holidays, a standard reconnection fee will apply).  After 4:00 p.m. until 8:00 p.m. (except holidays), an after-hours service fee will apply in addition to the standard reconnection fee.
Understanding Your Bill
We understand that there is a lot of information on your monthly utility bill and that there may be some confusion about how your bill is calculated.  The information on this page should help you understand your bill and hopefully clear up some of that confusion.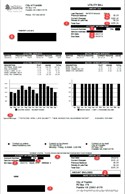 You'll notice that there are separate charges for water, sewer, electric and garbage.  Your water, wastewater and electric bills each have monthly minimum base charges that pay for the administrative costs of these services.  Additional charges apply for water and sewer based on the amount of usage measured in gallons. 

Your Electric charge is based on consumption of electricity over a period of time referred to as kilowatt hours.  Meters are electronically read once per month usually around the 20th of the month.  The usage period is usually 30 days.

The Garbage Charges are the same amount per month.
Other Charges:  Any penalties or late fees on the account for payments made after the due date.
Amount Due:  The amount due including current and past due amounts.
Amount Paid: The amount you show as payment on the account.
Remittance Address:  When sending your payment, this address must appear through the window.
Payment Coupon:  Please tear off and remit this coupon with your payment in the envelope provided if mailing in payment via USPS or paying in person.
Service Address: The address receiving the service; may be different from the customer address. 
Customer Name & Mailing Address: This is the name and address of the recipient of the bill; may be different from the service address.
Customer Number:  The Utility Billing Customer Service number assigned to your account.
Bill Date: The date bills were mailed.
Due Date: Date the "current charges" are due to avoid receiving a penalty notice.
PastDue: The amount not paid from previous month(s).
Current Charges: Description of charges including water, sewer, water tax, electric, fuel adjustment, electric taxes, and garbage incurred in the "Date From" to "Date To" period listed on your bill.
Total Due: The total amount due, past due and current charges.
Account Summary:
Past Due Charges from previous balances not paid
Water & Sewer Charges
Electric Charges
Garbage Charges
Current Charges
Total Due (Current and Past Due) same as item 1on remittance slip.
Important Messages: Messages about your account, utility activities, general information and City wide changes in Utilities or other news will appear hear.
Administrative Fees
Fees - Effective July 1, 2014
| | |
| --- | --- |
| New Account Installation-Electric | $10.00 |
| New Account Installation – Water & Sewer | $10.00 |
| New Account Installation – Refuse Collection | $10.00 |
| Deposit on Residential Accounts | $450 |
| Deposit – Commercial | Average 2 months of usage at facility |
| Late Fee if Not Paid on the 20th | $15.00 |
| Business Hours /Standard Reconnection Fee | $75.00 |
| After Hours Reconnection Fee | $100.00 ($75+$25) |
| 2nd Trip Charge | $50.00 |
| Meter Tampering Investigation | $250.00 |
| Return Check Charge | $50.00 |
| Reprinting of Bill | $5.00 |