Skip to main content
Super Summer Jam
Friday, April 14, 2023 | 683 Oak St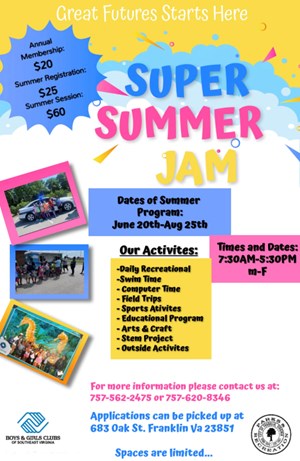 Parks and Recreation is thrilled to host the annual Super Summer Jam!
School is almost out and we are ready to spend the summer with Franklin's youth! Join us for Super Summer Jam to enjoy Swimming, Computer Time, Field Trips, Sports, Educational Activities, Arts & Crafts, STEM Projects, Outdoor time.
From June 20th - August 25th
Monday - Friday
7:30am - 5:30pm
For more info: 757-562-2475 or 757-620-8346. Applications can be picked up at the MLK Center - 683 Oak St. Franklin, VA, 23851.
Spaces are limited.