Skip to main content
Spring Fest Vendor Application
Friday, February 11, 2022 | Downtown Franklin - Main Street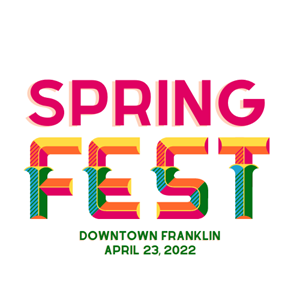 **Submit applications via email to csblythe@franklinva.com, once application is approved you will receive a link to make your payment online** 
Dear Exhibitors,
The City of Franklin is thrilled to announce the first annual Spring Fest! We plan to kick off the spring season with a new event, and Spring Fest is officially set for Saturday, April 23, 2022!
Similar to the beloved Franklin Fall Festival, numerous blocks of our downtown historic district will be closed from 9:00 a.m. until 3:00 p.m. to showcase local businesses, crafters, food vendors, artists, educational exhibits, entertainment, and more!
Vendor booth spaces are 10 feet deep by 20 feet wide.  The spaces are outside, and each vendor must supply their own table and tent or covering, if so desired. Each Vendor will be allowed one set up vehicle unless prior approval from the city acknowledged. Vendors are required to unload their vehicle, proceed to parking area out of the festival area, and then return to set up at their assigned booth location. We ask this courtesy to reduce the congestion in the festival area and make it easier for all vendors to access their location for unloading and setting up.
Enclosed is a Booth Registration Form for your use in reserving a space for this event.  You will be notified of the exact location of your booth approximately one week prior to the festival.  We will attempt to honor requests for specific spaces on availability and on a first-come basis. FORMS AND PAYMENT DUE APRIL 11, 2022.
Electricity is available for an additional charge of $15.  We have a limited number of spaces that are equipped for electricity, and they are assigned on a first-come basis.  You must supply your own extension cords and adapters.  Exhibitors must immediately begin breaking down their booths and preparing to leave the event at 3:00 p.m. and must remove all items brought with them.  The festival is held rain or shine.  No refunds or credits will be given due to inclement weather.  No early breakdown please!
If you have never been with us for a downtown event, you will be more than satisfied with the attendance and excitement generated.  Come see why the community is yearning for more downtown events!
We are looking forward to welcoming a new event and we hope you will join us in creating a fun, fresh atmosphere in Downtown Franklin!  For additional information, please contact the Tourism office at (757) 562-8506 or email csblythe@franklinva.com.